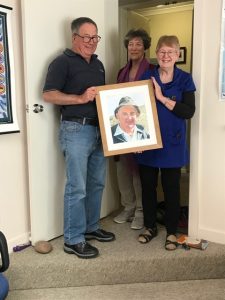 We are excited to show off a beautiful new gift that is gracing the wall of our MSS office in Melbourne.
Jeff Byrne has been a director of our Highways and Byways – A Community of Service Board for the past seven years. During this time, we've been so grateful to Jeff for his financial and economic insights and advice, and for his business acumen and guidance. Little did we know, however, that he was also a painter!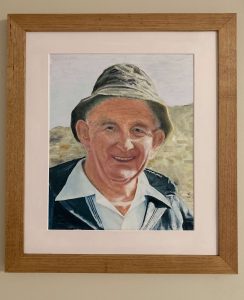 Just before Christmas Jeff popped into our office to present a special gift for us – a personally created oil painting of our founder, Father John Wallis. You can imagine our surprise (not only at Jeff's hidden talent), but also of the likeness of the portrait to Father John.
Jeff has never met Father John. Rather, he used a photograph from the website to create the portrait. The particular photo he used was taken at Wild Dog Hill near Whyalla South Australia while on a visit to the Sisters living there during the mid-late 1980s. (He died in 2001.) Jeff completed the piece over a two-week period.
Bernadette Wallis MSS explained, 'When Jeff visited us just before Christmas, he unobtrusively handed Stancea and I a parcel. Well, you can imagine our surprise when we opened the parcel. There was a beautiful portrait of Father John.'
'Jeff has made a huge contribution on the board for seven years and unbeknownst to all of us, he was also an artist! We had no idea he was a painter! It was such a likeness of John that I was overwhelmed,' said Bernadette, who immediately took it with her on family visits over the Christmas period.
'The family were delighted with the portrait, too,' she said.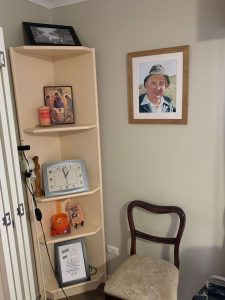 The portrait of Father John is now proudly hanging up in the MSS head office in Melbourne. 'We love seeing Father John's kind face looking over us as we work. We're grateful to Jeff for this thoughtful and personal gift to the MSS,' said Bernadette.
Jeff has been painting for the past four years after his wife bought him paints for his birthday. He said, 'When Christmas was approaching, I wanted to gift the sisters with something meaningful and personal, and something that they'd enjoy and would be a surprise'.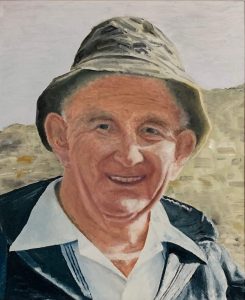 'When I saw Bernadette's reaction, I was really pleased. Looking over the portrait she said there was a "fantastic likeness to John". It's always a bit tricky painting someone you've never met.'
We're grateful to Jeff for both his economic, business and financial skills that he brings to the Highways and Byways board and committees, and now, for his beautiful artistic skills!
Don't forget that Bernadette Wallis' latest book, Dear Mother Dear Father: Letters Home From John Corcoran Wallis 1927-1949 is available for purchase online. This book contains 100 letters that John Corcoran Wallis wrote to his parents and family from the age of 16, when he first joined the seminary at St Columbas College, Springwood in 1927. 88 of the letters were written in the next 10 years, others in 1940s. Find out more about the book, here and find out more about Fr John Wallis, here.