At 86 years of age, Beryl Gleeson MSS is "more content now" than she's ever been. Having entered the Missionary Sisters of Service community in August 1969 at age 34, she says now is a time for enjoying each moment, counting the blessings, and being at ease in "not having to do things".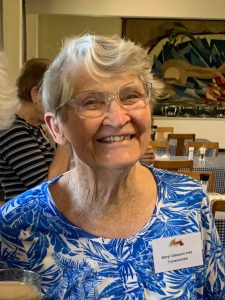 Beryl was born in Blackall, central Queensland in 1934, the last of three children. As a girl and woman, Beryl enjoyed Agatha Christie novels, drawing and travelling. She also enjoyed attending daily Mass. At 15 years of age she left school and worked in an insurance company for a few months, followed by the State Government Stores where she worked as a Clerk typist.
There, she met Win Shannon whose sister, Joan, was a Home Missionary Sister of Our Lady, the former name of the Missionary Sisters of Service. Win used to collect donations for the Sisters and Beryl gave sixpence each week. At 18 years, Beryl thought about joining the Sisters, but her mother didn't like the idea. She'd also wanted to be a police woman, but the Queensland police force weren't recruiting at the time.
At 21, Beryl embarked upon "the wonderful experience" of a working holiday in New Zealand with her sister, Iris and 3 other young women. She returned after 10 months, working for three years with Migrant Education, and set off again on a 2-year overseas working trip with her sister. This adventure saw Beryl visit an array of countries including England, Scotland, Ireland, France, Spain, Portugal, Italy, Austria, Switzerland, Germany, Denmark, Sweden, Norway, Holland and Belgium, Canada, Mexico and the USA.
Beryl enjoyed the freedom, travel and sense of adventure. She felt "rather depressed" when returning from overseas. Now in her later 20s, Beryl applied and was accepted into the Northern Territory Police Force. She was 27 when she travelled to Darwin to join the force.
Sadly, after three years, she was not content and resigned. Something was missing. Fortunately, Beryl was presented with an opportunity to teach Tiwi girls on Bathurst Island to the north of Darwin.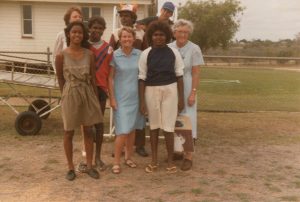 "This new adventure was the beginning of finding real meaning in my life," said Beryl. She spent 3.5 years on Bathurst Island, praying and attending mass each day, and immersing herself in books from the priest's library. Besides teaching school, she taught the girls to sew, do craft work and she taught three girls to play the piano. Beryl also taught a group of women to sew. A firm in Brisbane had generously given her many patterns of clothing and Beryl's mother also supplied some. The garments the women made were sold in the local canteen.
It was on Bathurst Island that Beryl once again felt a deep call to religious life and missionary work. She applied to join the Carmelites but changed her mind. Still looking, in Brisbane she saw a photo of one of the Missionary Sisters of Service in their new dress, and thought "that's it, I'm going to them!" Beryl also liked that the community was Australian, they had 'Missionary' in their title, they were not school teachers or nurses, and they were travelling into country areas and reaching out to people wherever they were.
Missionary Years
Beryl spent two years in formation in Hobart, Tasmania. During this time, she'd travel with another sister visiting families in rural Tasmania for a short time. In 1973 she travelled to Parkes, NSW where she lived for two years and had many adventures in the outback areas of the Wilcannia-Forbes diocese. Beryl then returned to Tasmania where she worked in the printing apostolate, printing forms for the correspondence courses in religious education and any other publicity materials.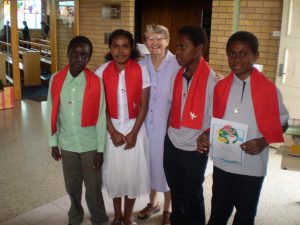 Beryl spent time in Whyalla, South Australia, visiting families in the remote areas and supporting families as their children prepared for the Sacraments. There was a memorable occasion when the Parish Priest took Beryl and another sister north to Alice Springs, visiting people on the way and going through to Uluru.
"I loved going out into all the country places, meeting all the people out there," she said. One particular story of a home visit in rural NSW has stayed with her: "We were out in this country area and we'd been invited in for a meal. The family had done up everything and had dished up a beautiful meal. We were all sitting there and then all the flies and insects started coming in. We were trying to keep them away from the food. The family said, 'don't worry about them, they don't eat much'. They also said, the only way to stop them coming in is to turn out the lights, which they did. That just meant we couldn't see the insects attacking the food!"
There is laughter in Beryl's voice as she recounts this story. There is no shortage of stories when it comes to the many adventures experienced "out on the road" visiting families in rural and outback areas.
A Deeper Call
Beryl's deepest call to mission has been her work with Aboriginal communities and with refugees. She'd felt at home on Bathurst Island, teaching the Tiwi girls years before. "I wanted to be immersed in ministry in Aboriginal communities," she said. "It's really about listening to them, talking with them and helping them in all their situations."
While in Charters Tower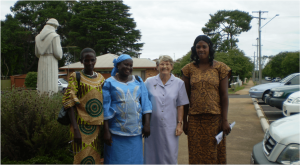 s, in Queensland, Beryl worked hard to acquire a house from the Government for use by Indigenous people. "When we got the house, we cleaned it up and got it ready for the Indigenous community. They owned it after that and held their meetings and gatherings there."
From 1988 Beryl was based in Cairns, Queensland for 11 years. There, she established a choir comprising of PNG, Aboriginal and Torres Strait Islander people to play their instruments and sing in their own languages at an Indigenous Mass once a month.
Whenever possible Beryl travelled into outback areas, such as Burketown, Normanton, Karumba, Richmond, Mt Isa, Boulia, and was interested in meeting the people from the bush.
In 2004 Beryl went to Timor Leste for two months as she still had a desire to be with the poorest of the poor, but to her disappointment, verging on 70 years old, she found that she couldn't learn the language or cope with the harsh conditions.
Looking back, she has worked with Indigenous people for about 20 years and for the past 16 years with refugees in Toowoomba. She has taught English to refugees through Migrant and Refugee Services and TAFE and enjoys visiting refugees in their homes helping them with whatever is needed. "It has been very uplifting when asylum seekers have been granted a Permanent Visa," she said.
Beryl is still an active member of Vinnies, having a passion for underprivileged people, and also has an interest in fostering interfaith fellowship. "I enjoy meeting people of different cultures and learning about their different beliefs and spirituality," she said. "I've come to learn that everyone shares the same belief that we must all love one another. That's what it's all about."
Reflections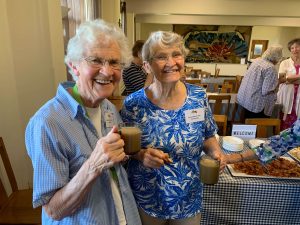 Reflecting on her life as a Missionary Sister of Service, Beryl says it's always been "very free". "The MSS mission has evolved over the years. The emphasis used to be taking the gospel message to those on the outskirts of society, and I suppose we now have a different idea of what the gospel message is, and we carry that message within ourselves and it is 'caught' by any that we come in contact with."
"I'm so grateful that I have been accepted as an MSS by this beautiful group of Sisters. We have been blessed with those of great leadership qualities. I am grateful to be enabled to have a fulfilling and enriching life in my twilight years and I'm grateful to all who've been part of our journey."
If you were to visit Beryl at her home in Toowoomba these days, you'd most likely find her in the garden, taming and sorting an abundance of tomatoes, or inside painting with acrylics, oils or water colours. Drawing and painting have been a hobby of Beryl's since childhood. She's lost count of how many artworks have been created and shared among friends and family across the country. But she hasn't lost sight of, or stopped counting her blessings for each day, and for the gift that has been her life as a Missionary Sister of Service.