We, the Missionary Sisters of Service, are a congregation of Religious women who have come from all walks of life to live out the Gospel message of hope and friendship. We were founded by a young country priest, Father John Corcoran Wallis, in 1944, in Tasmania, with six women responding 'yes' to a deep call in their hearts to serve those on the margins. Throughout the years the expression of our mission has adapted to the needs of the time, and the people and the land that we've encountered on our journey. Our desire to reach out as a living sign of God's love, however, has been a constant, and we continue to do so with whomever we encounter, wherever we are, in whatever we're doing.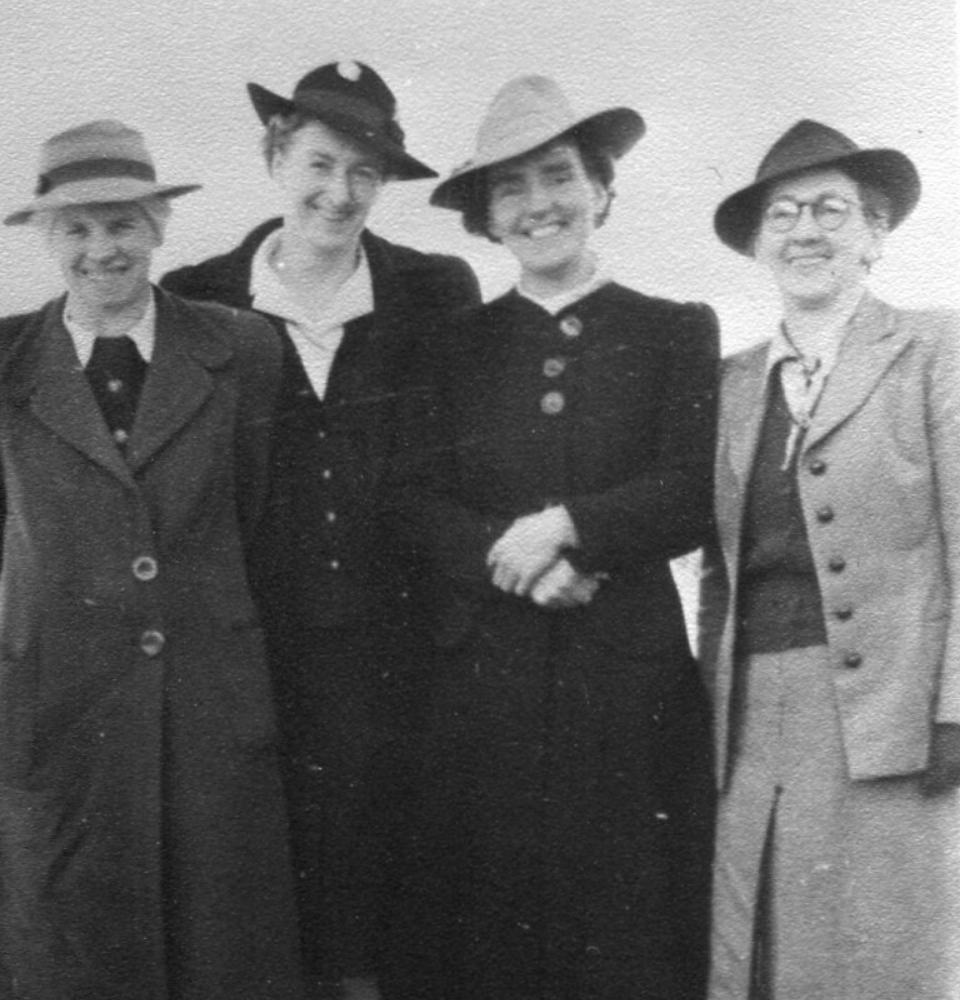 Our story really began in 1933 on Bruny Island, off the south east coast of Tasmania, Australia. A newly-ordained young country priest, Fr John Corcoran Wallis, was visiting Mrs Kit Hawkins when asked: "Father, why can't we have Sisters to teach our children? Doesn't anyone care about us people in the bush?"
Fr John cared deeply, and the question stayed with him. Over the ensuing years a vision formed in his mind, of women going into rural and outback areas, seeking out people beyond the reach of the care and supports so readily available to others; women who would visit people in their homes, support, encourage, counsel, teach and empower them to nourish their families and communities.
Eleven years later, on 8 July 1944 in Launceston, Tasmania, the first four women came together: Gwen Morse, Monica Carroll, Kath Moore and Joyce O'Brien. Later that year they were joined by Valerie Casey and Agnes Ryan. This courageous group of women became the foundation of our community of Missionary Sisters of Service.
Over the following years our community grew in numbers and into its mission and identity. Initially focused on rural and outback areas, our vision grew to include people in more populated areas who can also find themselves on the margins. Our missionary spirit continues to this day; we provide friendship and support where we can, in whatever we're doing and wherever we are living.
Milestones on the Journey
1944
Four women volunteered
Four women volunteered to pioneer the new community, known then as Home Missionary Sisters of Our Lady, with the motto "into the highways and byways", and housed in Launceston, Tasmania.
1945
Correspondence lessons sent
Correspondence lessons in religious education sent to 13 children on Flinders Island (north of Tasmania).
1948
First Parish Mission
First Parish Mission. Two sisters invited to Derby parish, Tasmania.
1949
Sisters experimented
Sisters used a caravan for about ten years during parish visits so that accommodation and teaching facilities would be readily available.
1951
Formal approval
Formal approval given by Church authorities for establishment as a Religious Congregation.
1957
Parkes Foundation
Foundation established at Parkes, New South Wales with four sisters.
1962
Time of renewal
From 1962 - 1965 the time of renewal in the spirit of Vatican II.
1964
Toowoomba Foundation
Foundation established in Toowoomba, Queensland (five sisters).
1971
Whyalla foundation
Foundation established at Whyalla, South Australia (two sisters). Congregation's title changed from Home Missionary Sisters of our Lady to Missionary Sisters of Service (MSS).
1982
Central house transferred
From 1982 - 1983 the central house transferred from Tasmania to Melbourne, Victoria.
1984
Appointed as pastoral leader
A Missionary Sister of Service was appointed as pastoral leader of a priestless country parish for the first time in Tasmania.
1980
Pastoral ministry extended
During the 1980s Pastoral ministry extended in dioceses of Townsville, Rockhampton (including the Aerial Ministry), Cairns and Brisbane, and a wider diversity of works in urban areas.
1990
Individuals' gifts were further developed.
During the 1990s The work of the sisters continued to diversify and individuals' gifts were further developed.
2004
Diamond Jubilee
The MSS celebrated the Diamond Jubilee of their Congregation.
2010
Foundation launched.
The John Wallis Foundation launched.
2018
A Community of Service established.
Highways and Byways: A Community of Service established.
2019
75-year anniversary.
The MSS celebrate their 75-year anniversary.
Where our sisters have lived and worked
Today there are 25 of us living in Australia – in Victoria, Tasmania, Queensland, and South Australia. As the times and needs of those we served changed, we too diversified the expression of our mission in many ways.
Some of us moved to live on our own in small rural communities, others moved to bigger towns and cities, to take in adult faith formation, pastoral support and advocacy, hospital and industrial chaplaincy, visiting prisons and detention centres, spiritual direction and counselling, just to name a few! Though older and less mobile, for all us, it has been to be with people in their ordinary, everyday lives, no matter who they are and from what background they have come.
In 2019, we Missionary Sisters of Service celebrated our 75-year anniversary. To commemorate this special year, we produced a short video which tells the story of our women – who we are, what we do, and why we do what we do.
We hope you enjoy this special presentation.