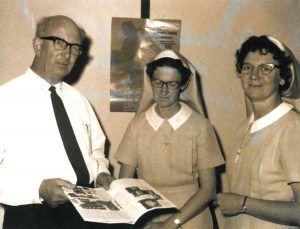 March 31 marks the 50-year anniversary of the foundation of the Missionary Sisters of Service (MSS) in the Port Pirie Diocese. On this date in 1971, Sisters Frances McShane and Helen Haywood MSS (deceased) arrived in Whyalla. They had stayed with the Good Samaritan Sisters and had moved house many times until 1973, when they made 67 McRitchie Crescent home base.
From this place the Sisters worked across the diocese, meeting families and parish communities to inform them of their presence and ministry. They travelled to communities across the Eyre Peninsula – Minnipa, Ceduna, Cleve, Streaky Bay, Cummins – and the vast areas north of Port Augusta through to Uluru from their base at Coober Pedy.
Their ministry centered on outreach to families and helping to prepare children for the Sacraments with the help of the Sisters' correspondence lessons that were sent out from Whyalla. The Sisters initiated faith formation opportunities for adults in many of the parishes in which they worked.  Each year a youth camp was held at Thuruna, along with prayer gatherings from time to time for the women. T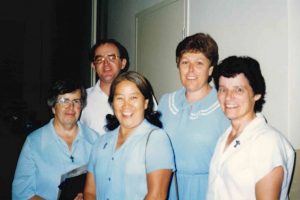 he Sisters had a book shop and holy goods for sale from their home in McRitchie Crescent, which also came with them in the car when travelling to remote and rural communities.
Over the years, many Sisters ministered to the families and communities living within the diocese and we give thanks to them. They included Sisters Paul Coad (deceased), Margaret Rogers (deceased), Marie Carroll, Margaret Windsham, Mary Cleary, Nancy Doyle, Beryl Gleeson, Genevieve Ng (deceased), Stancea Vichie, Maureen Hickling, Marie Murphy, Corrie van den Bosch and Therese Healy. Sister Margaret Kenny, recently deceased, spent 23 years in Whyalla and Sister Cheryle Thomson has been involved in the diocese for the past 30 years. Since 2002, Cheryle has been the Pastoral Associate of the Catholic Parish of Whyalla. Sisters Cheryle, Margaret and Therese were very supportive of the refugees being held in Baxter Detention Centre near Port Augusta.
Though the anniversary is officially on March 31, a special thanksgiving Mass will be held at St Teresa's Church in Whyalla on 29th May 2021 at 11am to mark the occasion. All are welcome. For further information email mssadmin@missionarysisters.org.au or call (03) 9873 5520.