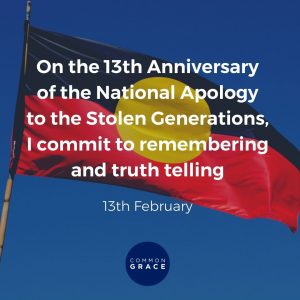 February 13 marks the 13th Anniversary of Prime Minister Kevin Rudd's National Apology to the Stolen Generations. The Missionary Sisters of Service acknowledge that our ministry throughout Australia and beyond takes place on the sacred land and waterways of the many cultural groups of the Aboriginal Peoples. For over tens of thousands of years these lands and waterways have been cared for under cultural lore and customs.
Australia's First Peoples have never ceded sovereignty and are the first sovereign Nations of the Australian continent. We acknowledge that the Aboriginal People have suffered personal harm, cultural dislocation and dispossession since colonisation. This past has resulted in Aboriginal People becoming one of the most disadvantaged peoples within our society and we are committed to action to close this gap.
We Missionary Sisters of Service stand with all Aboriginal and Torres Strait Islander peoples in their struggles to achieve a First Nations Voice to Parliament enshrined in the Constitution and a Makarrata Commission to supervise treaty processes and truth-telling.
February 13 is an opportunity for prayer and action. We encourage you to:
join with us in praying this prayer by Bianca Manning.
Read the Bringing Them Home Report
Put National Sorry Day (26th May 2021) in your personal and church calendars.
Image, prayer and resources credit: Common Grace