We are pleased to share the news that the Treaty on the Prohibition of Nuclear Weapons has achieved its 50th ratification at a recent UN event in New York (view a short celebratory video here). This means the Treaty will enter-into-force in 90 days, on the 22nd of January 2021, making nuclear weapons illegal under international law for all time.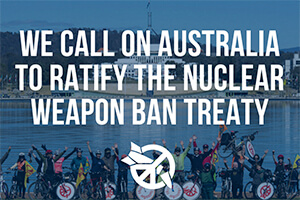 You may recall that the Missionary Sisters of Service were co-signatories to an open letter to Prime Minister Scott Morrison endorsing support for the Treaty on the Prohibition of Nuclear Weapons. The letter was released on 6th August 2020, which marked the 75th Anniversary of the Hiroshima and Nagasaki bombings (August 6 and 9).
The letter was organised by the International Campaign to Abolish Nuclear Weapons (ICAN), which began in Melbourne in 2007, and was endorsed by 61 faith organisations including the Australian Catholic Bishops Conference. An interfaith gathering was also held to commemorate the event.
Shamefully, Australia is still not one of the signatories, so we still have work to do!
What to do?
We need to get Australia on board. Between now and the 22nd January, ICAN is encouraging all of us to take action. Though we can't gather in big numbers, we can show our faces via photos. By organising a quick photo and uploading it to social media, we can help share the good news that the treaty is here to stay. Send the photos to australia@icanw.org for the virtual march on ICAN's website, which will be shared with the Australian Government when the treaty enters into force.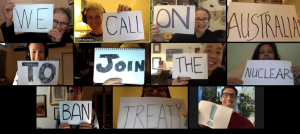 Background info – Why is entry-into-force important?
•All countries that have ratified the treaty will be bound by it.
•It establishes clearly that nuclear weapons are inhumane, unacceptable, and now illegal, and that no state should possess, use or threaten to use them.
•It puts Australia out of step with international law on nuclear weapons.
•A ban treaty can change the behaviour of countries that haven't joined, as demonstrated by the bans on landmines and cluster munitions.
•More financial institutions will divest from companies that produce nuclear weapons, in line with policies to exclude weapons banned by international law.
•It creates pressure and momentum for more nuclear weapons abolition action!