Thursday the 6th of August marks 75 years since the nuclear attack on Hiroshima in 1945. Days later, on 9th August, a nuclear bomb was dropped on Nagasaki. By the end of that year, Hiroshima and Nagasaki suffered more than 200,000 deaths and countless injuries. The impacts of those two explosions are still felt today, with many survivors requiring ongoing medical care.
Conscious of the destructive impact that nuclear weapons have, and having worked in outback South Australia, which played host to nuclear testing occurring in the 1950s and 60s with its impact on Indigenous people of the region and many other people, MSS congregational leader, Stancea Vichie MSS on behalf of the Missionary Sisters of Service was a co-signatory some years ago, to an interfaith letter endorsing support for the Treaty on the Prohibition of Nuclear Weapons.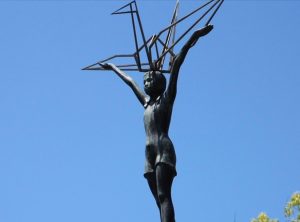 Another open letter has now been signed in light of the 75th Anniversary.  As before, this initiative has been organised by the International Campaign to Abolish Nuclear Weapons (ICAN). ICAN began in Melbourne in 2007, and in 2017, won the Nobel Peace Prize.
To mark the 75-year anniversary of the bombings, ICAN hosted an online interfaith service for nuclear disarmament with the Uniting Church in Australia. The service was open to everyone and was online via Zoom. It included prayers from seven faith traditions, including the Catholic Archdiocese of Sydney, the Hindu Council of Australia, the Australian Bahá'í Community, the Buddhist Council of NSW and the Executive Council of Australian Jewry.
The service also included a message from Pacific Conference of Churches (PCC) General Secretary Rev. James Bhagwan on the impacts of 50 years of nuclear testing across the Pacific and ICAN will provide an update on the campaign for Treaty on the Prohibition of Nuclear Weapons. There are still almost 14,000 nuclear weapons held between 9 countries today. These weapons pose an unacceptable risk to humanity. Every single one represents a catastrophic disaster, either by accident or design, that must be prevented.
Let us continue to come together to honour the victims and survivors of nuclear weapons use and testing worldwide, and commit to action for a nuclear-weapon-free world. Together with ICAN, the Missionary Sisters of Service welcome the UN Treaty on the Prohibition of Nuclear Weapons, which comprehensively bans nuclear weapons and any activities that support them. At a time of great nuclear risk, the ban treaty is a vital part of the journey forwards.
In Australia, our task is to urge and convince the Australian government to support the Treaty to Abolish Nuclear Weapons. Find out more actions, here. There's a simple, but impactful thing you can do! Please ask your local member and council to support the Treaty on the Prohibition of Nuclear Weapons. Find more info, and templates, here.