Yea held a special place in the heart of the young visionary and pastoral priest, John Corcoran Wallis, who was born at the old Yea hospital and baptised in the Yea Sacred Heart Catholic Church in 1910. He grew up in Homewood, 10 kilometres from Yea and attended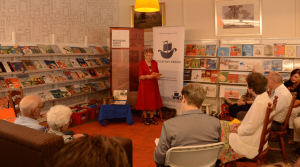 the local Homewood State school and later Sacred Heart School, the year it opened in 1923.
The local Library at Yea was the location for a special book launch of Dear Mother, Dear Father: Letters Home from John Corcoran Wallis 1927 – 1949 by Bernadette Wallis MSS on Tuesday 11th February, with more than 30 guests attending to commemorate the young man who founded the Missionary Sisters of Service in Tasmania in 1944. He became an influential and inspiring priest, who touched the hearts of many people along the way.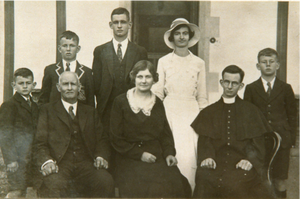 John left home at 16 to enter the seminary and was ordained in Kilmore for the Hobart Diocese, Tasmania, at age 22.  His parents were Emma Corcoran and Abraham Wallis; Emma's family having long roots in the local area. Her grandparents were Irish pioneers Thomas and Eliza McAsey who settled in the district in 1857, Thomas being the first lamplighter in Yea.
Having just turned 23, John was sent "on mission" to Bruny Island, a remote island off the south east coast of Tasmania, to visit isolated Catholic families. He travelled by ferry, bicycle, on a horse and by foot, often through thick bush and rugged terrain. While there, he met a mother with four small children, Mrs Kit Hawkins, who asked the fledgling priest, "Father, why can't we have sisters to teach our children? Doesn't anyone care about us people in the bush?" It was eleven years later that he founded the Missionary Sisters of Service, an Australian congregation of Catholic women.
Today there are 25 Missionary Sisters of Service still living in Australia – mainly in Melbourne, Toowoomba and Hobart. They celebrated their 75-year anniversary throughout 2019. As part of these celebrations, Bernadette Wallis MSS, the niece of Fr John Wallis had her book published by Coventry Press to commemorate the legacy of her uncle.
Dear Mother, Dear Father: Letters Home from John Corcoran Wallis 1927 – 1949 features 100 letters written by John Wallis during his seminary years, priesthood and in the founding of the Missionary Sisters of Service. The letters provide a unique snapshot into the man and the era, with each chapter also including a special commentary by eminent Australians.
When commenting on the book to Bernadette, Brenda Niall, Australian Biographer, Literary Critic and Journalist, said, "I congratulate you on bringing this engaging and humble man to life. Your book is a wonderful time capsule. I am sure that there are few, if any collections like this that have survived to give understanding of the times and the individuals who worked within them."
Bernadette Wallis said: "John loved the land and the bush, and his rural upbringing influenced his interest in country people and their issues. Also having had three siblings who were profoundly Deaf, John had a special interest in people who lived on the edge of society. Inclusiveness was important to him."
Bernadette added: "John died in 2001 aged 91. He would be amazed at how the Missionary Sisters of Service have developed their legacy, Highways & Byways – a Community of Service, their mission organisation that aims to strengthen communities, supporting people experiencing hardship and disadvantage especially in rural Australia."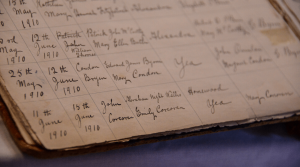 The book was officially launched by local Yea man and friend of the Wallis family, Mr Frank Hargrave AO, who shared some of his favourite excerpts from various letters in the book. Prof. Gabrielle McMullen AM also provided some commentary at the launch.
Following the book launch, Bernadette took a group of visitors on 'The John Wallis Heritage Trail', which allowed them to see significant historical sites related to John Wallis.
These included the site of the old Yea hospital and Sacred Heart Church to view the Baptismal register. They drove along the road where John rode his horse to the Homewood State primary school and visited Switzerland Road to see where John's mother, Emma Corcoran, grew up, and where the original ancestors settled in Yea. The final destination was a visit to Pioneer Cemetery where Abraham and Emma Wallis are buried, as well as earlier family members.
Further book launches of Dear Mother Dear Father will take place in Melbourne (5 March), Toowoomba (8 March) and Brisbane (11 March).
PLEASE NOTE: The Sydney launch scheduled for 19th  March HAS BEEN POSTPONED.
Click here to find out all the details or phone (03) 9873 5520 or email mssadmin@missionarysisters.org.au.
Words and photos by Fiona Basile