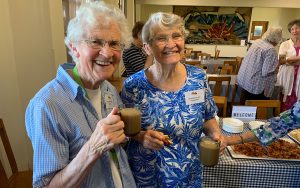 Frances McShane MSS was born in Broadmarsh, Tasmania and is one of nine in the family. She joined the MSS in 1960 and was professed on the Feast of the Assumption, 15 August 1963. Reflecting on her time as an MSS and some of the stories that remain close to her heart, Frances shared her first experience of mission: 'I was giving a Mass Commentary in the little Church at Chigwell—St Monica's—where Fr John Wallis was the parish priest. Being 1963 the Mass was all in Latin. I was very nervous, and one parishioner said afterwards, "That was good, but your face was very red." I confessed, "I was very nervous".'
Frances' first mainland mission was in the Wilcannia Forbes Diocese in NSW, which she described as 'life changing'. She'd left Hobart where it was 3 degrees Celsius and just days after arriving in Parkes, was out on mission to Cobar where it was in the 30s. There was a dust storm and her white bowler's hat brim was gathering red dirt from the dust, which soon turned to red splotches of mud when some large rain spots fell. 'But the country was big and the people were all big in heart too. They always made us so welcome,' she said.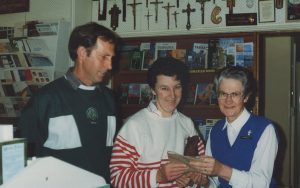 Frances also has fond memories of her missions for 12 months in Tasmania, her own 'beloved home territory', with families she'd known from childhood, followed by four years establishing the foundation house in the Port Pirie Diocese, SA, with Sr Helen Haywood. They were vastly different places, but people had 'very big hearts and hands out in welcome,' said Frances. 'I will be forever grateful to the priests and folk in those places, some quite remote, for their kindness to us.'
Frances managed the Catholic Centre Bookshop in Hobart for 28 years, which was considered the 'shop-front of the Church in Hobart'. Her next and penultimate mission was as Pastoral Associate to the Franciscan Friars in the West Tamar Parish, serving in Beaconsfield during the mine-collapse that took the life of a local miner. 'It was a privilege to serve during those days', she said.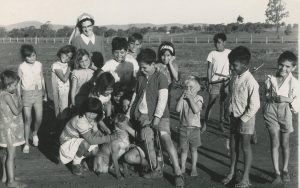 Frances retired from parish work to Claremont, Tasmania, in 2014. Now in her 80s, she is enjoying her 'retirement years' by reconnecting with local community events and with her extended family of whom she has many! 'It has been a privileged time and I am looking forward to keeping up with the next steps in the life of the congregation,' she said. 'I am also following the Australian Plenary Council findings and am looking forward to a productive Synod.' At home, Frances enjoys spending time tending her little garden, 'keeping the roses and camellias growing nicely and showing them in our local flower shows'. 'People don't mind if I boast when I win some prizes along the way!'
Photos from top: Frances McShane MSS and Beryl Gleeson MSS; Frances McShane in the Hobart book shop; Frances McShane MSS with children in Barham, country NSW.