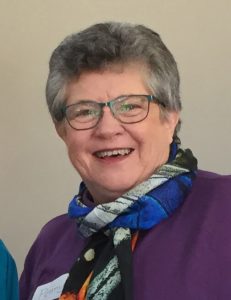 We are delighted to share this beautiful reflection, Where would I sit? by Penny Edman (pictured) who is a freelance writer based in Hobart, Tasmania. Penny has been a friend of our Community of Women since 1984, while still living in Bundaberg, Queensland. She is the author of One Man's Yes to God, about Father John Wallis and more recently, Around the Kitchen Table with the Missionary Sisters of Service. She was responsible for inaugurating the now annual John Wallis Memorial Lecture (originally held in Hobart) and has been a member of the Hobart group of the Highways and Byways – a Community of Service since its inception (formerly known as the John Wallis Foundation, which commenced 10 years ago). Thank you to Penny for sharing this reflection.
Where would I sit?
I have a new friend. His name is Homeless Jesus ("HJ"). While I can't speak with him directly or even be with him, he has been niggling my conscience since our friendship began several weeks ago. As I write this, night has fallen over Hobart; a cold, wet night after several days of winter rain. It is not a night to be sitting, let alone sleeping, on a park bench. HJ reminds me, uncomfortably, that there are too many people (one is too many) doing just that in Hobart and around the world.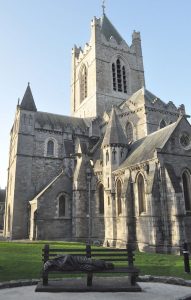 "Homeless Jesus" is an all-bronze sculpture by Canadian figurative artist Timothy P. Schmalz. Many versions of this 'visual prayer' are now installed worldwide. Regardless of its global location, "Homeless Jesus" is a figure on a park bench. The only indication that it is Jesus is the holes in his feet.
I first encountered this confronting work in Dublin, Christmas 2015 (interestingly, the sculpture was installed that year). To my shame, I did not appreciate its power nor its significance, as the tourist in me stopped only to take photos (shown here). We became re-acquainted, and friends, through a reflection by noted Australian writer Michael McGirr. Originally published in Madonna Winter 2020, as A Sermon in Bronze, I came across the article more recently in prayer.com.au.
Michael's article refers to the "Homeless Jesus" installed at Newman College, University of Melbourne, located near the residential college's chapel. In Dublin, it is adjacent to the majestic Christ Church Cathedral. Other installation locations include Moscow, Johannesburg, Singapore, the Dominican Republic, Israel. Michael writes of the Melbourne statue,
At Newman College, the image of the homeless Jesus has been placed near the gate, outside the magnificent chapel. It is a work of faith to connect the Jesus of human frailty that we discover in the poor and rejected with the beauty of the stone chapel. The building makes no sense unless we try to get closer to Jesus lying on a park bench, or being on the street, or trapped in a detention centre. This means going deeper in the spirit. It also opens us to a perspective of emotion humility… Jesus will rest with us wherever we happen to be at any given time. He is close to the poor, and to each of us in our own poverty.
Within days of reconnecting with HJ, I had occasion to prepare a PowerPoint for my South Hobart parish for the feast of the Body and Blood of Christ. Michael had mentioned other works by Schmalz, including "The Last Supper". My Google search found a similar scenario – the idea expressed in different settings. In "The Last Supper", Jesus sits at the middle of the table, breaking bread. There are 12 empty stools around the table, offering an invitation for the visitor to move from being a viewer to being a participant.
Both sculptures are powerfully provocative. Each extends an invitation to participation, to be a disciple in today's world, to find a home, a place, with Jesus.
The questions I pose to you in relation to both works, while still asking myself, are
Where would I sit in relation to Jesus?
and maybe even more tellingly, and more honestly,
Would I sit?