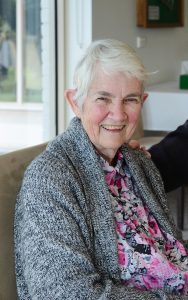 Pat Kelly was born in Townsville, Queensland, and joined the Missionary Sisters of Service in 1962, aged 23. During her years she has worked in parishes and the Correspondence School and where needed conducted Family Clusters and Effectiveness Training, and coordinated Higher Aged Groups, and a Carers Support Group.
Pat's years of mission have certainly taken her into the highways and byways of Australia—she has worked in the outback and rural communities in Tasmania, New South Wales and Queensland, and in her last years of mission worked in Gin Gin and Richmond, both in Queensland.
Pat now lives in Clayton, Victoria, and enjoys getting involved in things within her community, including through her local Vinnies. She regularly takes part in Monash Council activities, attending interesting talks, and she enjoys studying various topics through U3A (University of the Third Age). Recently, she enjoyed a visit from two of her sisters from Queensland—they were lucky to catch Pat, as she's often out and about visiting different places of interest, or enjoying weekend travels.
Photo above: Bernadette Wallis MSS, Mary Cleary MSS, Pat Kelly MSS, Nancy Doyle MSS, Pat Brain MSS. Right: Pat Kelly MSS. Photos by Fiona Basile