Our congregational leader, Stancea Vichie, attended the sixth Mission: One Heart Many Voices national conference held in Sydney from 3-5 May 2023. The conference is held every two years, and is convened by Catholic Religious Australia in conjunction with Catholic Mission. This year's theme was based on Pope Francis's words, 'Come, let us talk this over. Let us dare to Dream' (from his book, Dare to Dream).
Over three days, a range of keynotes and workshops were held, with opportunities for discussion, reflection, and collaboration with many others from across the country. Mr Dean Parkin, who has been closely involved in the process that resulted in the historic Uluru Statement From The Heart, and who continues to advocate for constitutional and structural reform as director of From the Heart presented the opening keynote; his topic was Listening to Many Voices from the Heart: Truth-telling and Reconciliation. Dr Elissa Roper, Bishop Shane Mackinlay, and Bishop Tim Norton addressed the topic of Truth Telling, Synodality and Mission in their keynotes, while Ambassador to the Holy See, Chiara Porro, spoke on Leading and Acting – Story Telling of Partnerships for a Better World.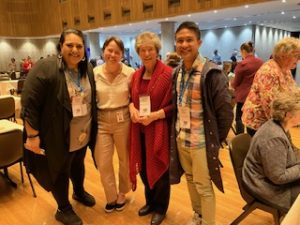 Stancea has been a long-time attendee of the conference, having been a member of the Catholic Religious Australia Mission Network for many years, which is also involved in the formation of the conference program and suggestion of speakers. She 'went to everything' and was grateful for the opportunity to hear from so many knowledgable, inspiring and big-hearted people, particularly those helping to deepen our understanding of the challenges faced by First Nations peoples.
Among the many resources, Stancea recommended having a look at the Truth: From the Heart PDF resource produced by Aboriginal Catholic Ministry Sydney and Catholic Mission, which aims to immerse participants in a 'relevant, problematic situation, which affects the whole person (their empathy, imagination, will, creativity, initiative, and sense of responsibility), to ultimately challenge participants to take action based on our common humanity, knowledge of the gospel, or faith experience.
To access the resources page, which will continue to be updated over coming weeks, click here.
Photo courtesy Stancea Vichie MSS. From left, Rachel Kama (Diocese of Parramatta Mission Enhancement Team); Bridget (Catholic Mission); Stancea Vichie MSS; and Donnie Velasco (Diocese of Parramatta Mission Enhancement Team).