Within the Christian faith tradition, the Season of Creation is from 1 September to 4 October, the feast day of St Francis of Assisi. It is a time to focus our prayers and energy on care for Earth and all of creation. To mark this season, the MSS together with Highways and Byways – A Community of Service and the Carmelite Centre Eco Spirituality Reading Group hosted a series of Sunday afternoon 'Pauses'.
'The idea of the "Pause" is based on the Sabbath, day seven of the Creation story of Genesis 1. Sabbath is a day to stop and admire the work of creation,' said Corrie van den Bosch MSS, who was one of the formation and guiding team members who led the reflection and discussion each Sunday (September 5, 12, 19, 26 and 3 October). There were more than 180 registrations overall, though not everyone could make it each time.
Reflecting on the various pauses held over the five weeks, Corrie said, 'In week one, Evelyn Diradji took us to the Cosmos, our home. Evelyn conveyed her own sense of wonder as she connected us to the original creative impulse expressed in each new blossom, in each drop of rain, in every new-born life, and so much else.
'In Pause two, Gail Pritchard invited us to the "Council of Beings" in which we listened to the turtles and all ocean creatures speak about their concerns of rising sea temperatures, Birrarung (the Yarra) shared her concerns from the perspective of rivers and all of earth's water systems, and finally the forest spoke about the importance of forests for the wellbeing of the Earth. These three beings, speaking on behalf of all earth and all earth beings, invited participants to 'stand in their shoes' and learn from their wisdom.
'In Pause three, we had an amazing session presented by Sherry Balcombe, Manager of Aboriginal Catholic Ministry Victoria. We listened to the wisdom of Aboriginal spirituality and its integral embeddedness in the whole of creation. We tend to think of country as the area where we are, but for Aboriginal people, as we heard from Sherry, country is alive, and it includes the animals and plants and the sky and all life that has gone before – all the beings. And it's where they connect with God.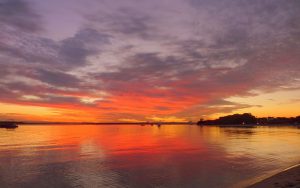 'In Pause 4, Barbara Daniel pbvm took us into the beauty and the crisis and the urgency of caring for earth and all its systems, evoking a love for creation because we will not save what we do not love.'
Each presentation included or was followed by some time for quiet reflection, after which participants met in small groups to share their reflection with one another.   The Pauses concluded with a short prayer, blessing or song.
In the final Pause, the fifth week, Corrie invited participants into a Sabbath Pause: God saw all God had created and indeed, it was very good. Beginning with a short video of Miriam Rose Ungurmerr-Bauman's Dadirri: 'To know me is to breathe with me;   to breathe with me is to listen deeply;   to listen deeply is to connect…'
Using beautiful images, she invited participants to breathe to the rhythms of the Cosmos, of day and night, of seasons and years, of birth, death and rebirth, and to remember the themes of the earlier Pauses.
Corrie then referred to a quote from Cynthia Bourgeault's book, The Wisdom Way of Knowing, who says that the divine qualities of love, mercy, compassion, creativity, justice, goodness, beauty and so on seek new stream beds to flow through the entire cosmos. Our vocation as human beings, as alchemists and artists, is to live those divine qualities streaming into our world in our relationship with every being.
The final Pause concluded with the beautiful song by Carolyn McDade, "This Ancient Love".  In sending off the participants, Corrie said, 'remember that ancient love goes with you. And hold the earth, all of us together with that same ancient love because if ever the world needs that love, it is today.'
On behalf of all who led the Pause reflections, Corrie thanked participants for 'making the Season of Creation journey with us. Our deep gratitude for registering for these Sunday Pauses. It is so encouraging to know that you all are committed to grow in awareness of caring for creation, our common home.'
An additional pause was hosted on Sunday 31 October to pray for the world leaders gathering in Glasgow from 31 October – 12 November for the 26th UN Climate Change Conference of the Parties (COP26). In hosting this prayer gathering, Corrie said, 'Together we will encircle the Earth with our prayerful intention that participants of COP 26 will open their minds and hearts to the beauty and fragility of our world and our responsibility to care for our common home, and that they will commit their nations and organisations to action.'
FURTHER RESOURCES
Book: The Hidden Life of Trees by Peter Wohlleben
Suzanne Simard, Forests Are Wired for Wisdom Podcast
The Uluru Statement from the Heart
Pope John Paul II's speech to the Aboriginal people of Australia, given during his visit to Alice Springs in 1986
Aboriginal Catholic Aboriginal Ministry Victoria