A continued presence of love
In celebration of Cheryle Thomson MSS's life, ministry and 'official retirement', about 70 people from the Catholic parish of Whyalla, South Australia, gathered for a celebration lunch. People from across the Diocese of Port Pirie have known Cheryle for more than three decades.
Celebrating her life of service, at the Whyalla Football Club, it was noted that Cheryle is the longest serving Missionary Sister of Service in the diocese and has been pastoral associate in the parish in Whyalla since 2002.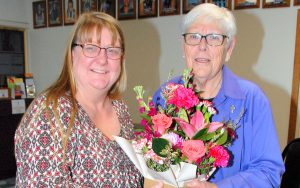 Parishioners reflected on Cheryle's time indicating that they were very blessed to have had her working in their parish for the last 20-plus years. One of the parishioners wrote, 'Sr Cheryle, we're grateful for the friendship, support and guidance you have given to all of us'.
Another person wrote, 'We would all have a story to tell about our own experiences of Sr Cheryle sharing herself and her gifts with us and within our families. She has been there in our most happy and exciting times, and most importantly, in our saddest times. Her hospitality is one of care and concern. There is always a bed at her home and a seat at her table.'
Cheryle is a strong advocate for justice and spent many years lobbying with many others to draw attention to the injustices of people in detention. She is a voice for those who need some help and assistance and has been a great support to many single-parent families and our aged and disabled parishioners and family members.
Cheryle's Reflections
At the celebration, Cheryle shared some of her precious memories from her time at the parish and the Diocese. They included the regular visits to Baxter Detention Centre, lay-lead liturgies in the absence of a priest, especially in Whyalla when the local priest, Fr Tony Redden was ill, and the amalgamation of the two Whyalla parishes. Cheryle has been significantly involved with the RCIA program each Easter during her years at the parish.
'Involvement with baptism preparation and the school and parish sacramental program gave me contact with so many people,' she said.
She has attended many family celebrations, many funerals, and had regularly made visits to the hospital and aged care homes. Supporting families is something she holds particularly closer to her heart. 'I have always kept an eye out for people with special needs and when possible, have followed up,' she said.
Though Cheryle's work with the parish has ended formally, she will stay on in Whyalla and remain involved in the lives of the people there, along with continuing some volunteering roles within the parish. She said, 'Over the last six years I have had some health issues and feel it is time to take life a little easier without too many responsibilities. As a Missionary Sisters of Service, I am still a pastoral presence and a volunteer in the parish. I am not about to sit around and do nothing!'
Speaking at the 50-year anniversary of the foundation of the MSS in the Port Pirie diocese held earlier this year, congregational leader Stancea Vichie acknowledged Cheryle's contribution to the diocese saying, 'This is a great moment to thank Cheryle for her wonderful work, her wonderful presence amongst you here, for all of this time. I'm just so happy that we'll still have a presence here,' said Stancea.
Photos courtesy Anne Rosewarne.